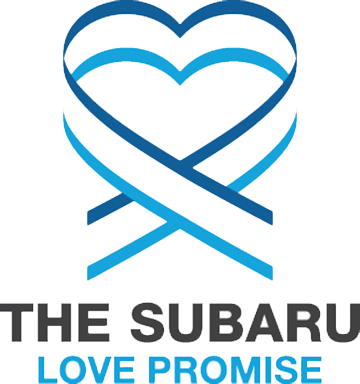 What is the Subaru Love Promise?
Subaru and our retailers believe in making the world a better place and the Subaru Love Promise is our vision of respecting all people. This is our commitment to show love and respect to our customers and to work to make a positive impact in the world.
How is Serramonte Subaru dedicated locally to the Love Promise?
Our Love Promise can be seen in various partnerships with local charities and non-profits. We're grateful for the opportunity, not only to be a part of our community, but to serve it as well.
Pars Equality Center, Project Night Night, SFSmiles
Love Promise Stories from Serramonte Subaru
Subaru and Serramonte Subaru believe in making a positive impact on the communities in which we live and work. We uphold that belief through our Love Promise Community Commitment. Every month, we select inspiring stories from customers and partners from around our area who strive to support our collective commitment and feature them here
Grateful Dogs Rescue- Buy a Dream, Save a Life! - Serramonte S
This is our sixth year working with Grateful Dogs Rescue and we are overjoyed with the relationship we have been able to build. They are a volunteer ran organization with no paid staff, the funds that are donated to Grateful Dogs Rescue all go toward the care and training of the dogs. It is a partnership that we cherish and hold dear to our hearts. We have attached images of three dogs that have benefited from this great program. We look forward to enhancing and continuously making this program / partnership stronger.
---
Serramonte Subaru Loves Learning Hoover Elementary - Arash H
It was an honor working with Principal Booth and the staff at Hoover Elementary. They have a wonderful staff and a library that needed some new life on the shelves. The staff was very diligent in their book selection, we could not be happier with the books they selected. We know these books will have an impact for years to come. We are very grateful for the Subaru Loves Learning Program and are excited to participate for years to come.
---
Subaru, LLS & El Camino Hospital Beat Cancer - Teresa V
Serramonte Subaru, the Silicon Valley Monterey Bay Chapter of the Leukemia and Lymphoma Society (SVMB LLS) and the nurses and doctors of El Camino hospital teamed up for the fourth consecutive year to deliver blankets to patients at El Camino Hospital's Infusion Center. Prior to delivering the blankets the team met to share their connections to the LLS mission. Thank you, Serramonte Subaru for stepping up again, to bring warmth and love to El Camino's patients in their quest to BEAT CANCER.
---
Subaru & LLS Partner to Crush Cancer - Hannah T
The team at Serramonte Subaru delivered over 100 blankets to cancer patients at El Camino Hospital. They joined our LLS staff alongside with the oncology doctors and nurses to hand out blankets to patients at the infusion center. It was an amazing day to be part of this great initiative to help keep patients warm as they continue to crush cancer. Thank you so much, Subaru,for joining our quest in this fight against blood cancers and help improving the quality of life for patients and their families!
---
Subaru & LLS Deliver Hope to Cancer Patients - Shannon H
During Subaru's Loves to Care month in June, messages of hope for cancer patients were written by visitors to Subaru retailers. Those who wrote a message of hope at a Subaru retailer also received a bracelet to help spread awareness of LLS and the automaker's goal to provide hope and care, one gesture at a time. The Premier Subaru of Fremont, Carlsen Subaru, and Serramonte Subaru teamed up to increase their impact and distribute 200+ blankets to El Camino Hospital on the same day. Those messages, along with blankets, were delivered to El Camino Hospital, to help keep patients warm as they continue their fight against cancer, and to help spread awareness of LLS and Subaru of America's goal to provide hope and care, one gesture at a time. The blankets were distributed among the Cancer Center, Radiation Oncology, and Inpatient Unit. "The response was one of such gratitude that Subaru and LLS show in action how much they care". - Sr. Executive Director, Oncology Service Line, El Camino Hospital. Thank you to all involved!
---
Sharing The Love of Knowledge - Alham I
Once upon a time, the world wasn't reliant on modern technology. Children weren't handed a tablet, they were handed a book. On October 25th, 2016 Serramonte Subaru Sales Staff met with local elementary school, John F Kennedy. Meeting with grades first, second, third & fourth, we were honored to be able to hand out over 240 books. The following books were handed out: Tiny CreaturesA Kid's Guide to Keeping Chickens Mission: Mars The Octopus Scientists The book most desired was "A Kid's Guide to Keeping Chickens", as their school has a chicken farm on site. It was A pleasure being able to interact with children and heartwarming seeing excitement as we handed out books and help promote education among a local public school. Our sales staff were excited and enjoyed their one-on-one interactions with the children.
---
What A Wonderful World - Alham I
Our Team at Serramonte Subaru is actively engaged in a local level community outreach. Not only our management team but also all of our staff truly enjoy being able to help and contribute in anyway possible. Whether personally affected or through an extended family member our organization has a unified goal which is to support and engage in any way possible. On July 06, 2016 Serramonte Subaru , Ashley Kraus (with The Leukemia & Lymphoma Society), Don Richwine (Subaru District Sales Manager), and Lymphoma Society, Pacific West gathered together and handed out blankets at El Camino Hospital to children being treated for Leukemia & Lymphoma. Many of us have been impacted by loved ones who has or had Leukemia or Lymphoma. By witnessing their everyday battle and daily struggles, we realize we can comfort them by showing support. We felt honored to be part of such a great impact and thank you for allowing us to assist in improving patients quality of life.
---
Subaru Loves the Earth E-Waste Recycling Event - Serramonte S
During the month of April Serramonte Subaru took part in Subaru's Love the Earth campaign. Throughout the month boxes were placed in the showroom for people to recycle their old electronic equipment. We were very excited to have several customers and members in our community stop by and drop off their old electronic equipment.
---
Proud to support Pars Equality Center - Pars Equality C
We are honored to have Pars Equality Center as our Hometown charity. Pars Equality Center offers and solicit social and legal support for all members of the community, including refugees, asylees and immigrants. Their goal is to engage all of our community in the effort to learn and defend our rights and responsibilities as members of the American society.
---
Serramonte Subaru supports Buy a Dream. Save a Life. Program - Grateful Dogs R
Grateful Dogs Rescue along with Serramonte Subaru are Partners in the Buy A Dream. Save A Life. Program. Serramonte Subaru is making a donation for every sale to help Grateful Dogs Rescue continue its life-saving work. Grateful Dogs Rescue is the oldest all-breed rescue group in San Francisco. For more than two decades our mission has been to save the lives of dogs at San Francisco Animal Care and Control that are at risk of euthanasia. They are a volunteer ran organization with no paid staff, the funds that are donated to Grateful Dogs Rescue all go toward the care and training of the dogs. It is a partnership that we cherish and hold dear to our hearts.
---