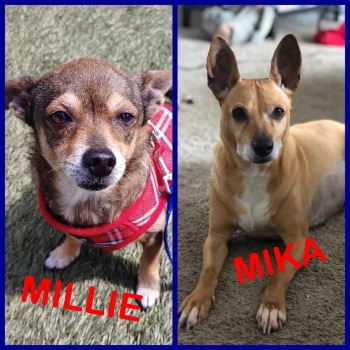 Serramonte,
Thank you for your most recent donations to Grateful Dogs Rescue representing April and May new car sales! We know that when Bay Area shelters reach out to us with dogs that need medical treatment that we can say yes. We can do that because of the Serramonte Subaru and Volkswagen donations. 
Here are two of the recent dogs that you and your team helped: 
Millie is an adorable rat terrier mix. She is a darling little dog that loves every person she meets. Millie had a growth on her shoulder that had to be removed. She was a great patient during her recovery. Even when she was hurting, the tail kept wagging. The growth was removed and happily it was benign! 
Mika is a German Shepherd-mix that was in bad shape. She had a mass that previous owners had left untreated. When it ulcerated, they surrendered Mika to the shelter. Grateful Dogs Rescue took her in and assured she had the necessary veterinary care. Mika is healing nicely and we know her future will be with a loving home that doesn't neglect her. Happily we heard today that her tumor was also benign!
Again, thank you. We are so proud to partner with you.
Normal
0
false
false
false
EN-US
X-NONE
X-NONE