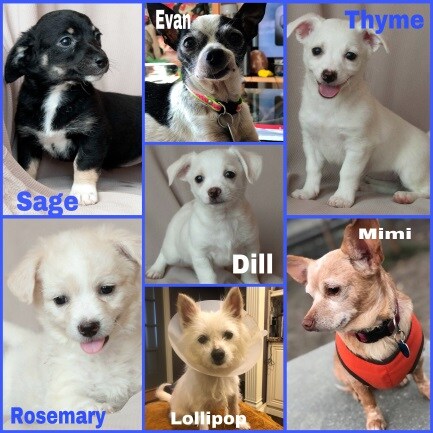 Serramonte,
We want to thank you for your donation for the months of November and December new car sales!  Since February is National Pet Dental Health Month in the veterinary world, we thought it appropriate to allocate these funds to several of our dogs who have recently had or are about to have badly needed dental work.  Since the cost of canine dentistry can really add up (dogs require anesthesia, and often bloodwork, for teeth cleaning as well as extractions), sadly many owners neglect this aspect of their dogs' health care.  Therefore, many dogs require major dentistry when they come to us.

Some dogs, like Pi and Mimi, are elderly so it's expected that they need major dental work. Others, like Jingle Bells, Sweet Potato, and Elf, are comparatively young so it might be surprising that their teeth were in such bad shape.  However, with very small dogs like these (average weight 5 lbs.) it's as though their mouths just aren't big enough for all those teeth.  In fact, many small dogs wind up with serious dental problems apparently for that reason.  And sweet middle-aged Maddy will require the services of a veterinary dental specialist for some extractions because our vet was concerned that her jawbone might shatter without that expertise.

All of these dogs are going to be happier and more comfortable, and will enjoy their food more, thanks to the care made possible by your donations!

Kim
---
Grateful Dogs Rescue
http://gratefuldogsrescue.org
http://www.facebook.com/GratefulDogsRescue
Here are a few dogs we were able to help. We really appreciate everyone's Help and Support.